Whistler is a popular destination for winter sports enthusiasts. As the winter winds down, in the spring the town comes alive with a variety of exciting events.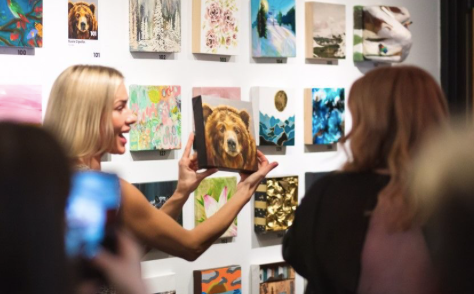 The Anonymous Art Show
is a must-see for art lovers, featuring a collection of over 200 works of art by both emerging and established artists - the best part (is in the name) the artist remains unknown during the bidding process, and is only revealed after an artwork is purchased. 
In addition to these events, the
40 More Years Silent Auction
is a unique opportunity to bid on incredible items and experiences, with all proceeds going towards supporting the Whistler Blackcomb Foundation. Whether you're looking to enjoy some amazing art, watch some thrilling sports competitions, or support a great cause, there's something for everyone in Whistler in the spring.
Below are some more events you may want to check out!
The Whistler Chamber Music Society presents the Ladom Ensemble, an exciting quartet combining piano, cello, accordion and percussion. April 16th.
Join registered Yoga Instructor, Amanda Drage, amidst the stunning architecture of the Audain Art Museum for a calming Hatha practice that will expose you to a variety of poses at an easygoing pace. April 20 - June 29.
Whistler Sound Bath | Maury Young Arts Centre
These ceremonial style sessions offer a soft blend of singing sound bowl meditations, breathwork, personal reflection, inquiry, and soulful sharing time. April 25.
In May don't forget about the Whistler Children's Festival
at the Maury Young Arts Centre
Dates: May 19 - 21 / 27 - 28

 
Cost: 
$15: workshops, $20: theatre performances, 4 family pack of tickets: $70
Whistler Children's Festival is back and its their 40th year! Two weekends filled with adventures for children along the Cultural Connector. Featuring dance parties, face painting, roving street entertainment, science shows, circus acts and internationally acclaimed children's performers.