In February the market started to pick up speed again, with with buyers, especially those from Canada feeling more confident in the market with the apparent hold on interest rate hikes from the Bank of Canada.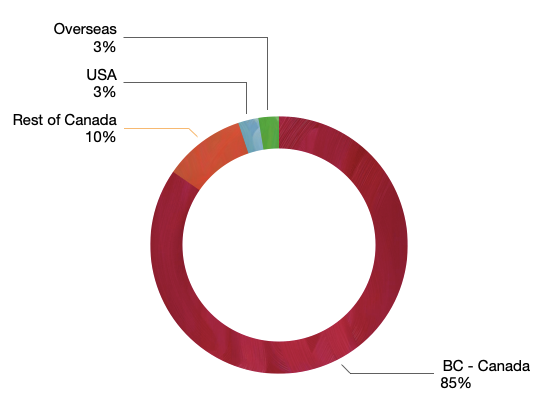 This graphic represents buyers in Whistler in February 2023. 
- 85% of buyers came from BC
- 10% of buyers from the rest of Canada, in this case Ontario, Alberta and Quebec. 
- 3% of buyers were from the US
- 3% of buyers were from overseas. 
We saw 85% of buyers in Whistler in February 2023 come from BC, primarily from within Whistler, West Vancouver and North Vancouver. Phase I units still seem to be holding strong in the market for people looking for vacation homes as they allow for the flexibility of unlimited owner usage, with being allowed to be used for nightly rentals, offering the best of both worlds in the eyes of the consumer. 
We have yet to see what affect the Foreign Buyers Ban will have on the Whistler market, as Whistler, along with other communities that are located outside Census Metropolitan Area (CMA) or a Census Agglomeration (CA) are exempt from the ban. 
Questions about the real estate market in the Sea to Sky?  Feel free to connect. 
Disclosure: Data from the Whistler Listing System (WLS) is believed reliable but should not be relied upon without verification. While the Information is considered to be true and correct as of March 16, 2023, changes in circumstances after the time of publication may impact on the accuracy of the Information. The Information may change without notice and Engel & Völkers Whistler is not in any way liable for the accuracy of any information printed and stored or in any way interpreted or relied upon by a user. The WLS and Engel & Volkers Whistler assume no responsibility for its accuracy. E&OE